Limited Time Offer: Take This Course For Only £97
England Rugby Physio Reveals…
Finally! An Easy Predictable Way To Assess And Treat The Diaphragm That Gets Results With Your Complex Patients
"Complexity Is The Enemy Of Execution"
– Tony Robbins
In Just 3 Hours,
Top England Physio Dave O'Sullivan

Will Help You Have The Confidence And Clarity To Implement A Simple And Easy To Use Assessment And Treatment Approach For the Diaphragm By Understanding The 'WHY' Behind Everything You Are Doing…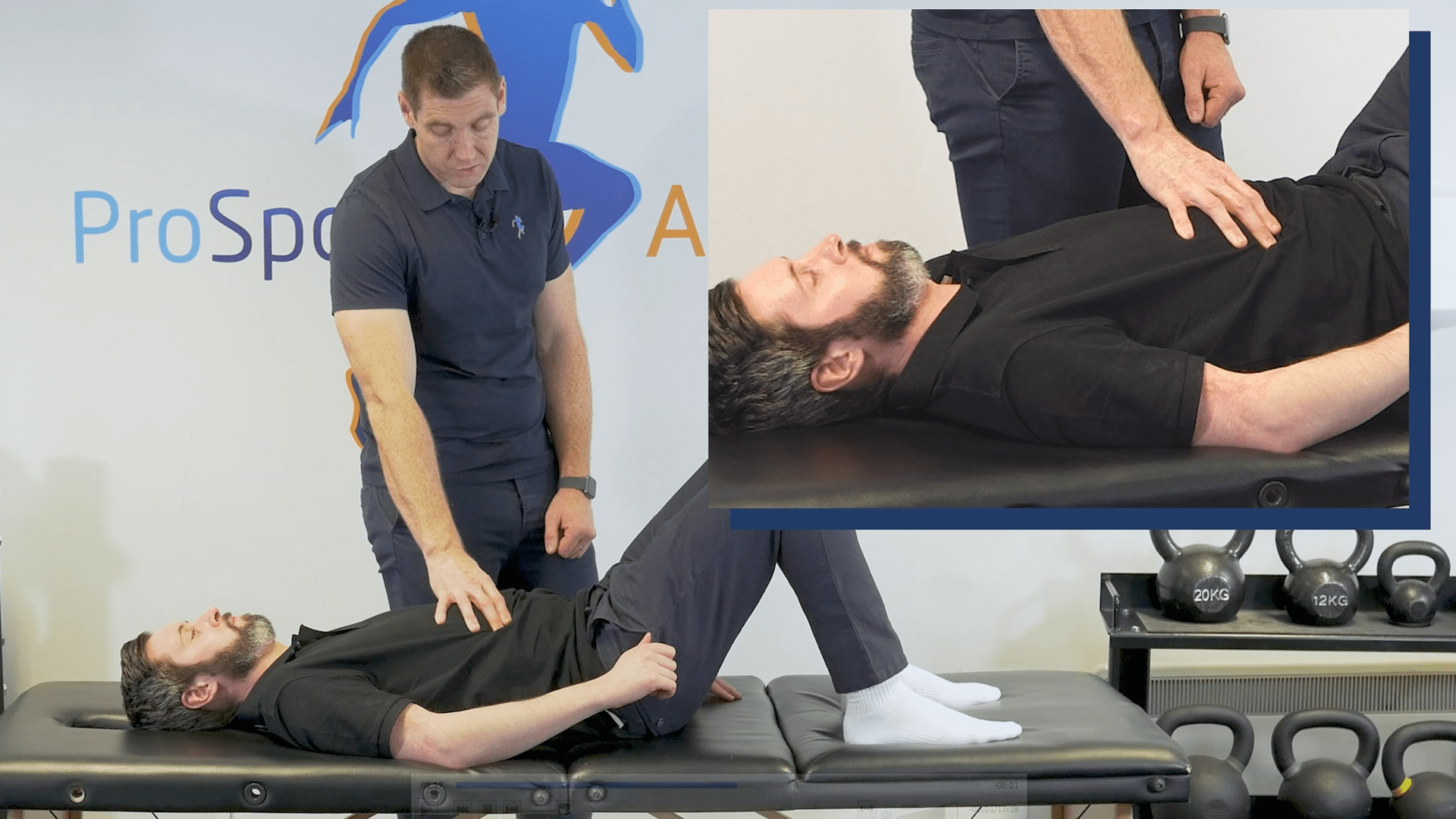 Dear Private Practice Therapist,
If you want a simple system for helping your trickiest complex patients see results quickly and buy into the full treatment plan, this will be the most important course you'll ever take.
Here's why…
Firstly, this isn't like any other online course or webinar.
There's no fluff or filler – just battle-hardened tactics that work with real persistent pain patients.
I've personally used this 'structured system' in my own private practice in Huddersfield with thousands of patients…
To using these techniques with world-class athletes in professional sport including pre-game in two world cup finals!….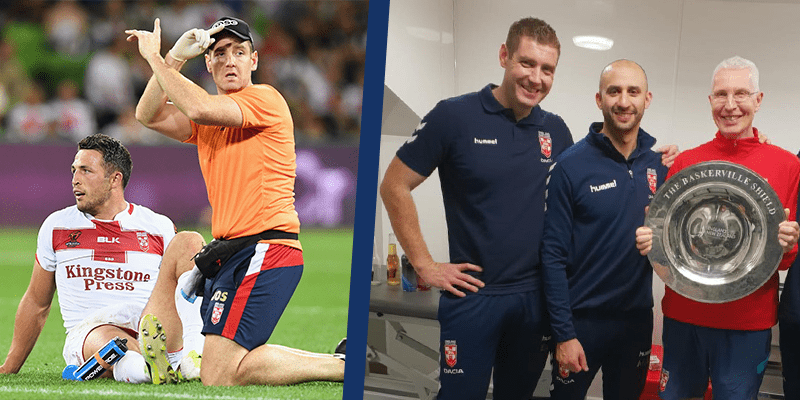 But it's not just me…
I've also deployed this simple system in over 17 23 different countries to over 400 therapists so they too can replicate my results with their trickiest patients…
This course is easy to consume and wastes no time in going straight for the jugular (pun intended). You get actionable strategies you can use RIGHT AWAY to dramatically improve your patient's pain experience…in most cases, without doing any hands-on treatment…
However, once you learn this system, you'll probably want to rethink how your treating even standard musculoskeletal cases…and might even go to the lengths of rethinking a lot of the exercises you're using with patients so they integrate effortlessly with this simple structured system!
These Therapists Have Used This Simple Method With Complex Patients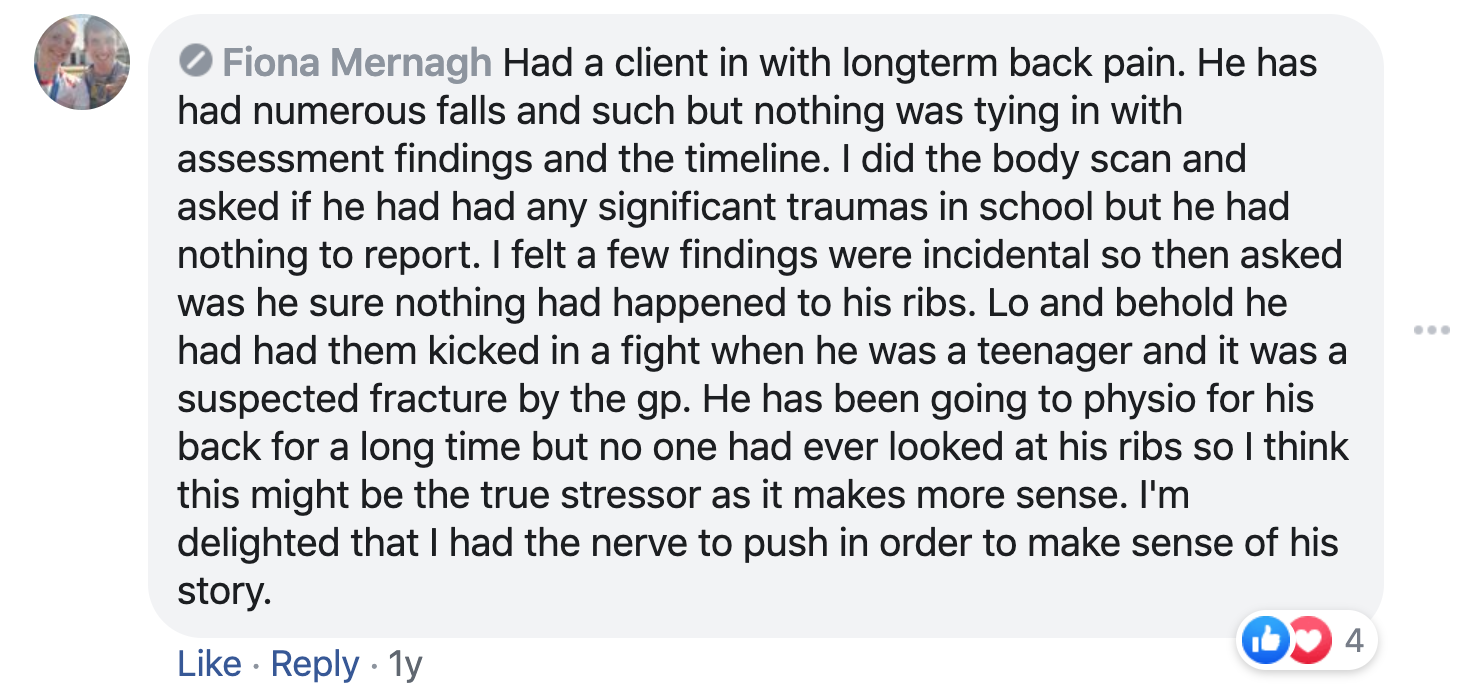 More Than 1 Thousand Patients In My Own Clinic Have Experienced This Approach For Back Pain…
I've personally used this system in my own clinic over the last 10 years and we have successfully helped thousands of patients at my clinic who haven't responded to traditional approaches…
You can use this simple structured system and implement it with your current skillsets with ANY CLINICAL SETTING!…
This isn't some airy-fairy theory, rather real people-tested tactics that are work consistently.
You also don't need to complicate this stuff.
I've personally done the 6 week Butekyo courses…
I've studied various breathing techniques…
Sifted through the research….
Taken various diaphragm and pelvic courses…
Agree with some of it…
Don't agree with other bits…
But most importantly and tried and tested IT ALL in MY CLINIC and in PROFESSIONAL SPORT to see if it brings about lasting changes.
You see, I've learned everything I know from APPLYING THIS STUFF in the hardcore, no bullshit, in-the-trenches real-world environment (not on Twitter or Facebook), and that's why I'm paying it forward to therapists like you so you can reach success faster and enjoy even better results.
And that's …
Why This Is The Only Course Of Its Kind…. And Why It Will Transform Your Entire Thought Process And Your Career, Like It Has Mine…

Ten short years ago, I started my clinic above a running shop with no patient list.
No GP contacts, no solicitor referrals, no insurance company referrals.
I put my head down and worked hard and got results for people…
Today, I have a team of 16 amazing employees, 5 treatment room clinics, a yoga studio, a gym and have worked at the highest level in professional sport.
And it's ALL because of the ability to look at the person rather than the symptoms that I guide you through in this 'simple structured system'.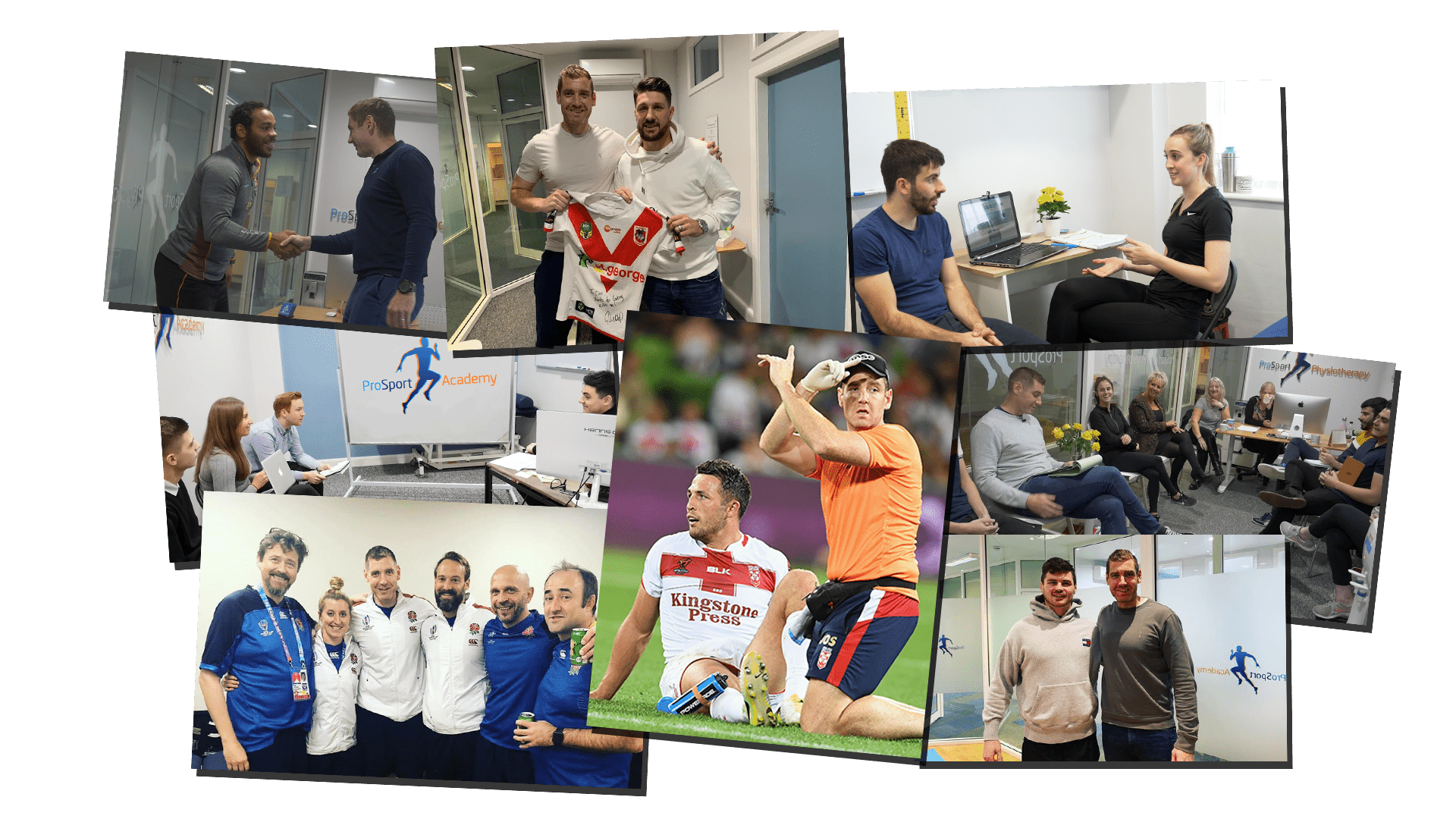 Since then I've been two world cups, and have mentored Head Physiotherapists in Professional Sports Clubs.
And the crazy thing is nobody is doing this stuff the easy way!
What easy way?
Here's Just A Mere Fraction Of The Gold You'll Discover In This Course:
Understand The Critical Role The Diaphragm & Pelvic Floor Play In Most Musculoskeletal Conditions
Discover How The Whole Body Works As One With Simple Assessments That Allow You To Make Sense Of Your Patients Story And Get Lasting Results
Discover The 3 Questions You Have To Be Asking Your Patients In The Subjective Assessment That Will Identify Non-Physical Stressors Effortlessly
Simplify Your Objective Assessment. Assess The Diaphragm As Part Of The Whole Body Movement In 3 Dimensions Easily
Gain The Clarity Of Knowing What To Do Next With Your Most Complex Patients. Never Feel Overwhelmed Or Confused About Where To Go Next Again.
Work Smarter, Not Harder. Use These Simple Exercises That Will Get Your Patient's Obliques, Transverse Abdominis, Hamstrings & Glutes All Coordinating And Working Together Without Any Conscious Thoughts Or Intricate Cues
Avoid Missing Out On The Most Important Progressions You Really Need To Be Exposing Your Patient To In Real Life That 99% Of Therapists Overlook
Differentiate Yourself From Other Therapists. Help Even The Most Complex Cases That Have Failed Traditional Approaches
How To Finally Connect The Dots And Understand The 'Why' Behind What You Are Doing…
While instantly becoming recognised as the 'Go-To' Therapist (even if you've just graduated)
Plus I'll reveal…
How to help your low back pain patients sit for prolonged periods without pain even if they are centrally sensitised…. and have pain for years
I'll share new research on how your tongue resting position can help influence the muscle activity of the neck muscles (and how you can implement this effortlessly with chronic neck pain patients)
Find out what the most violated rule in helping complex cases! (I can count on one hand the number of therapists not making this fatal mistake!)
How anybody (even a complete new grad) can write world-class treatment plans for complex patients. This method is so incredibly simple and will beat the pants off sucking belly buttons in or bracing the core every single day of the week.
The powerful "sleeping routine" strategy I use for helping patients get a good nights sleep (Even some of the world's most experienced therapists don't fully appreciate how important it is to help your patients sleep before worrying about glutes or core muscles)
How to uncover hidden tripwires that stagnate patients progress (even when you think they are close to being discharged)
The #1 biggest mistake made by therapists using breathing exercises! This mistake is giving therapists and patients false hope and continued frustration in the long run.
Little-Known Reactions That Creates A Stampede Of Issues For Therapists To Battle Against On A Daily Basis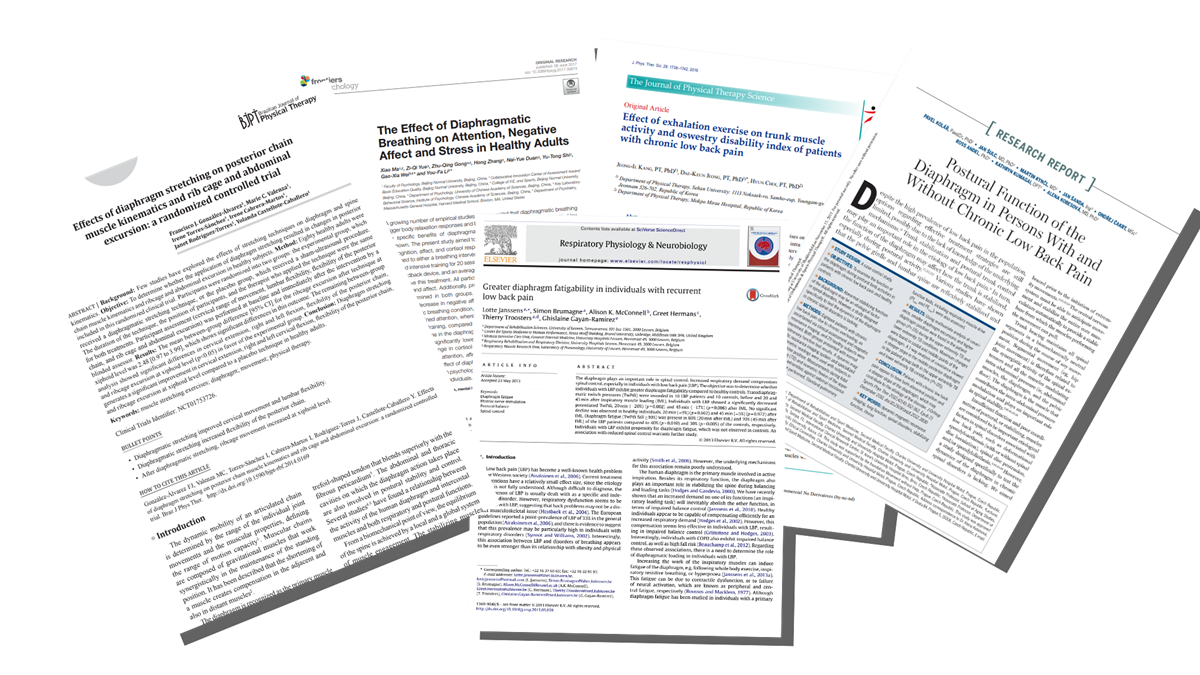 And this is just the beginning! Here's more…
Discover the #1 best way to eliminating the day to day frustrations of short term changes with your patients… and finally get long lasting change! This is one of my biggest and most powerful secrets. (Even some pro sport physio don't know these powerful yet simple exercises)
Why you could use less hands on treatment and get better results with your patients (and them be 100% happy with you) — and why that's good news for YOU!
What you absolutely MUST do before traditional strengthening exercises of ANY kind, to stop your patient from wasting their money…
The "clarity grabbing effective explanation" which allows you to get complete buy-in from your patient — that does every single exercise you ask them to do, no matter what they've tried before
What you must do RIGHT NOW if you're attention is on facet joint problems with extension based pain (It's the opposite to what you've been told and could DOUBLE your results in half the time!)
How To Take All The Information And Research Available And Create A Simple Predictable Effective System For Your Patients To Get Results
In other words, once you introduce your patients to this way of working, your patients will never again be satisfied with your competitor's services.
They will tell their friends and family about you because not many therapists are looking at the body this way.
And if you can help someone that has failed traditional approaches, they will only be too happy to shout your name from the rooftops.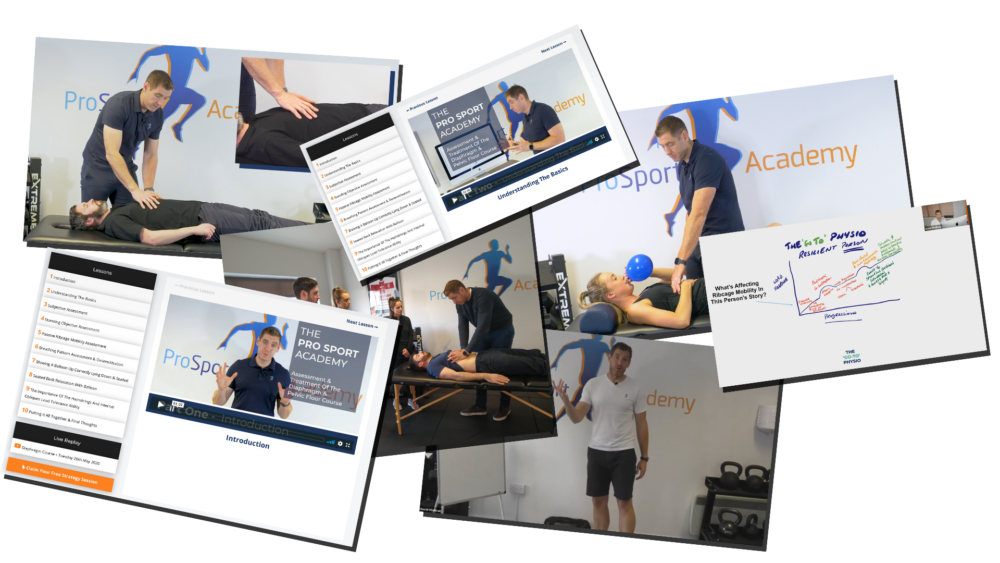 Plus you'll also discover…
How to eradicate resistance and scepticism from patients. A simple approach that builds trust and goodwill (while getting your patients back control of their bodies
The most effective 'diaphragm mobilisations' to use to mobilise the ribcage (Plus — the SINGLE most important thing you can do to win your patient's confidence forever … and the worst sin you could ever commit when using breathing techniques)
Exactly what to cue when you want the diaphragm to do more work and the scalenes to do less in order to improve the cervical range of motion
What to include in your patient's homework to get even the most sceptical patients to buy in. (This one strategy alone will change the way you look at your rehab plans FOREVER!)
My secret weapon to decreasing hamstring 'tightness' and low back 'stiffness' turning previous hours of mobilisations and massage techniques into a simple exercise the patient can do themselves for lasting relief (this single strategy is responsible for saving my hands in professional sport….)
How to get any man, woman or child to smile and laugh while doing their exercises (This is literally the polar opposite to what everyone else is doing — and this one tactic alone has helped hundreds of patients leave the clinic in a better state than they came in)
How to help your patient feel more mobile and less stiff without needing to use your hands… Or even while talking to them on the phone or on Telehealth! (This could be the single most potent and patient empowering tactic I've ever discovered…)
That's a lot of proven, street-tested strategies and tactics that actually work RIGHT NOW in the real world (not something that sounds good on Twitter) to rapidly explode your confidence in helping complex patients…
And it's stuff that the twitter 'gurus' can't teach you, because they don't have the real world experience of working with THOUSANDS of clients day in day out!
A 'Simple System' Which Allows You To Differentiate Yourself From Other Therapists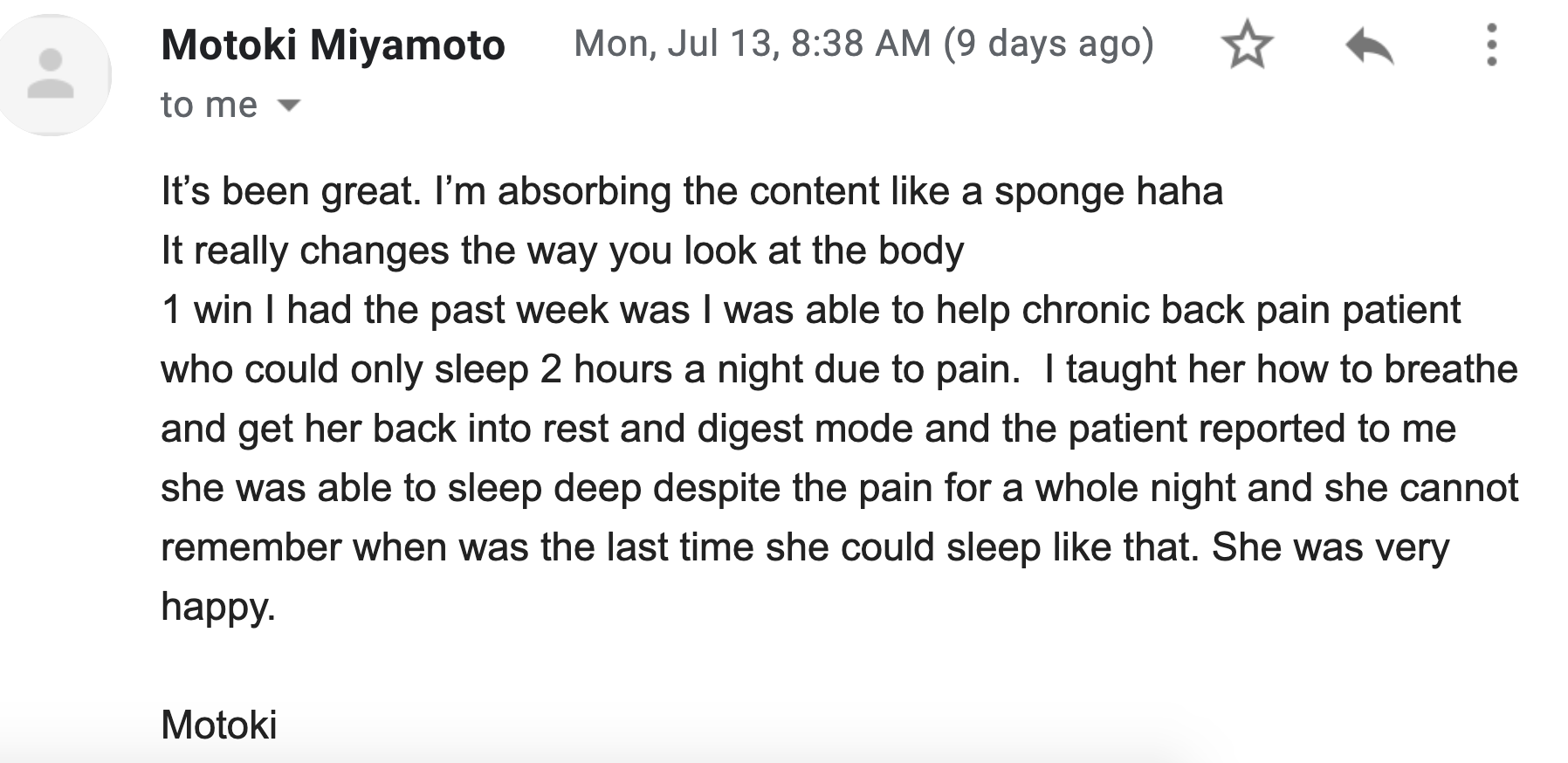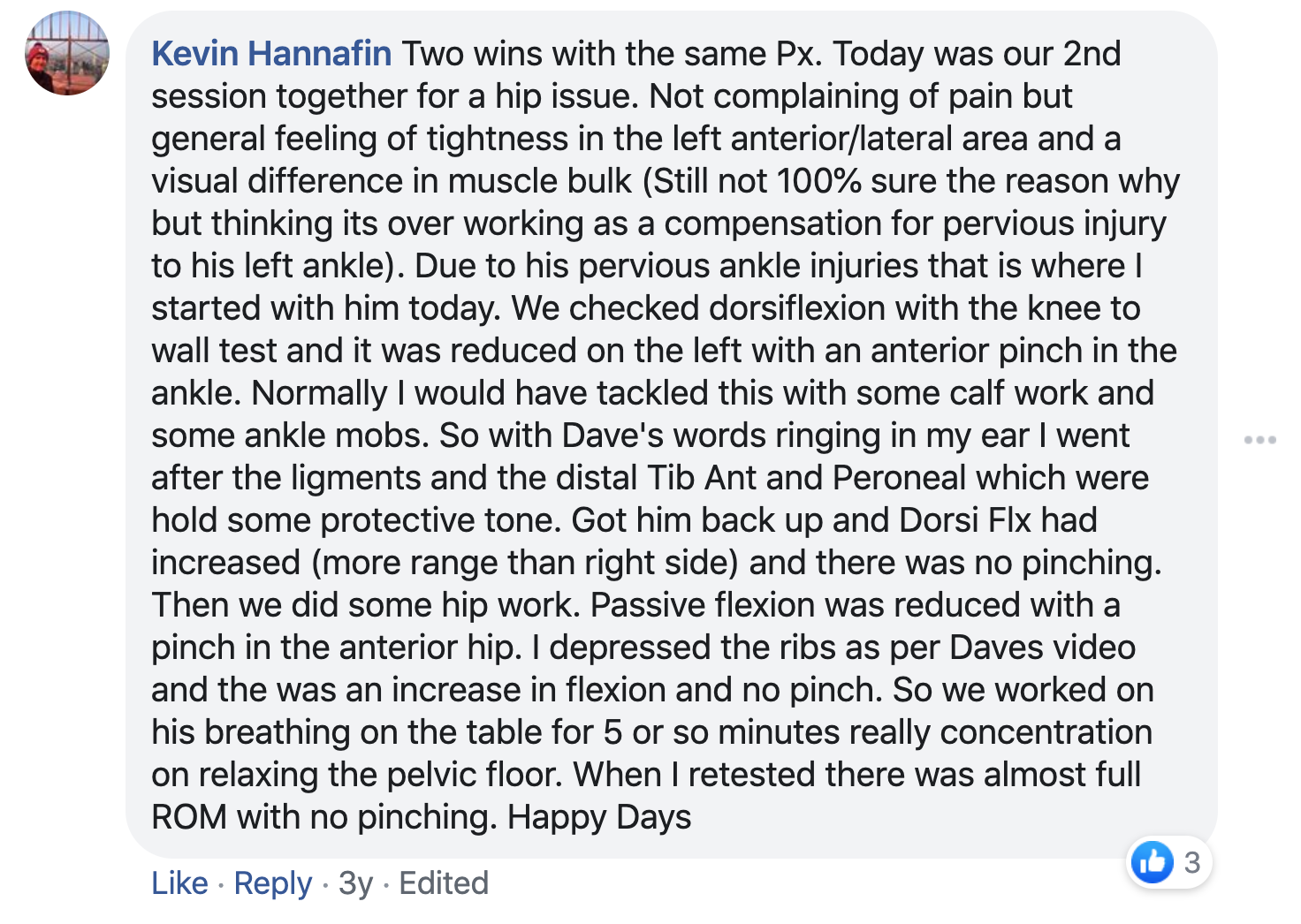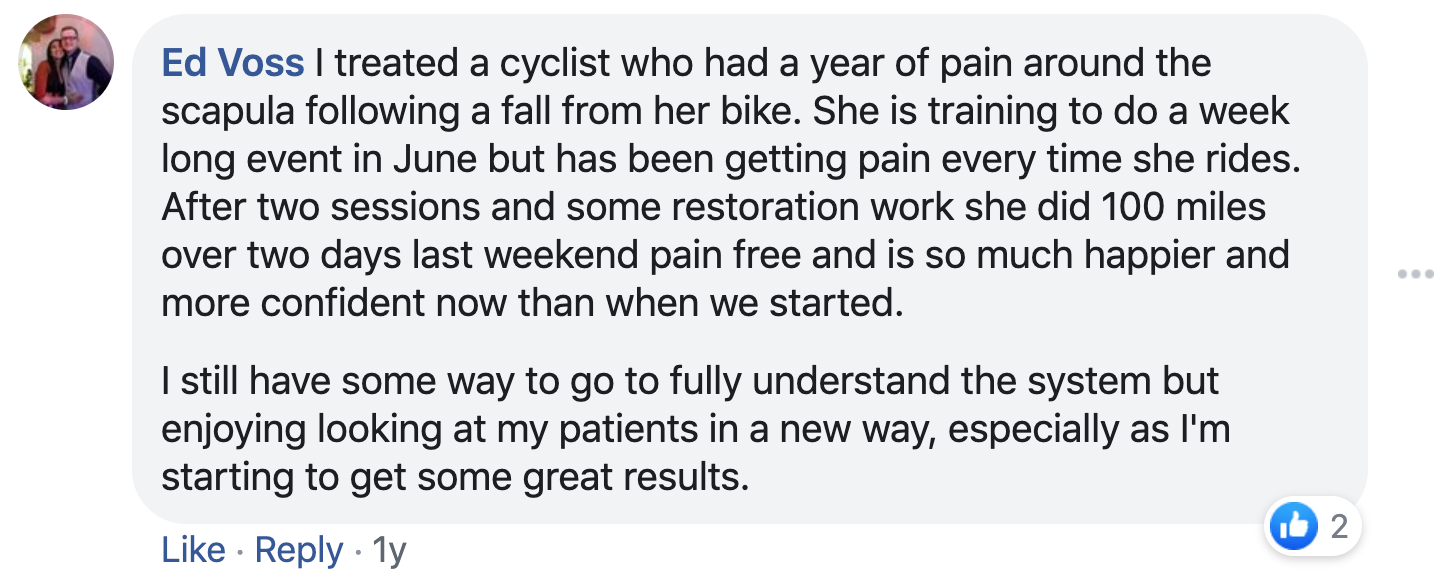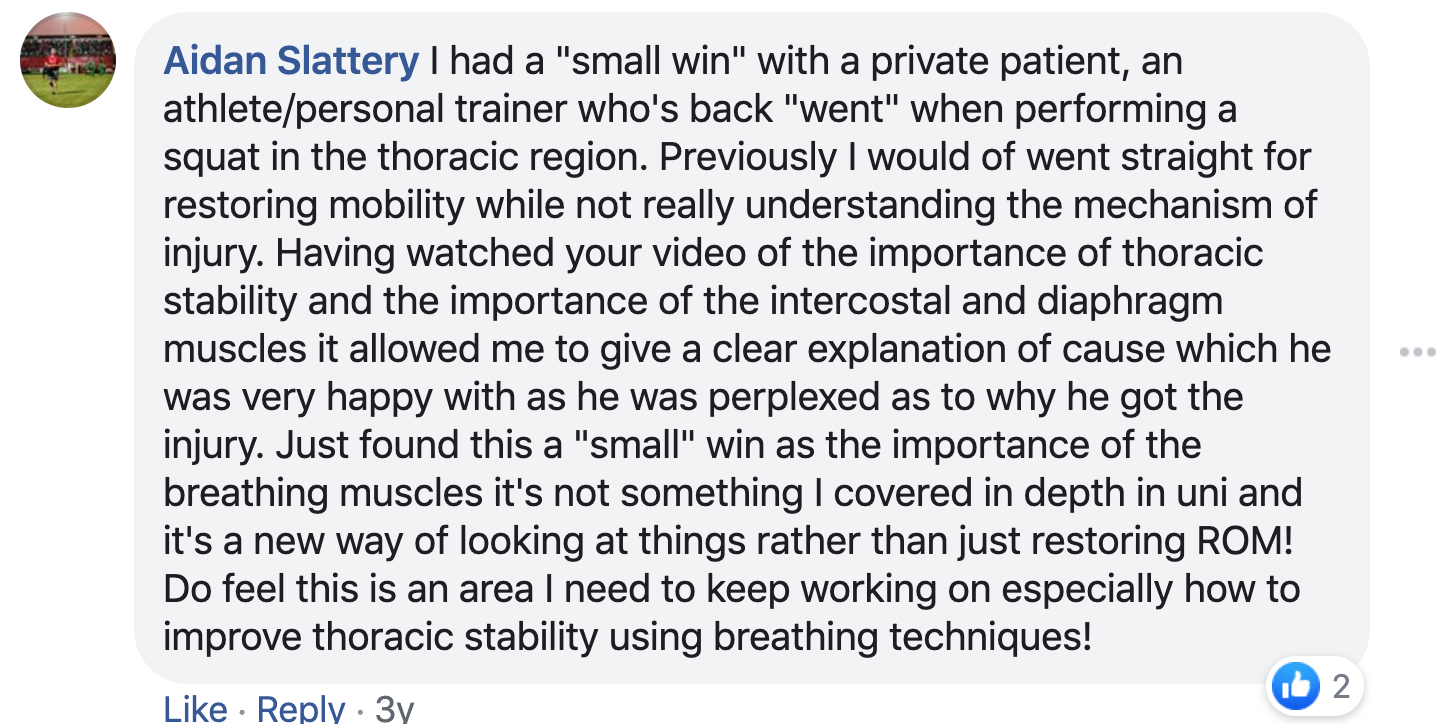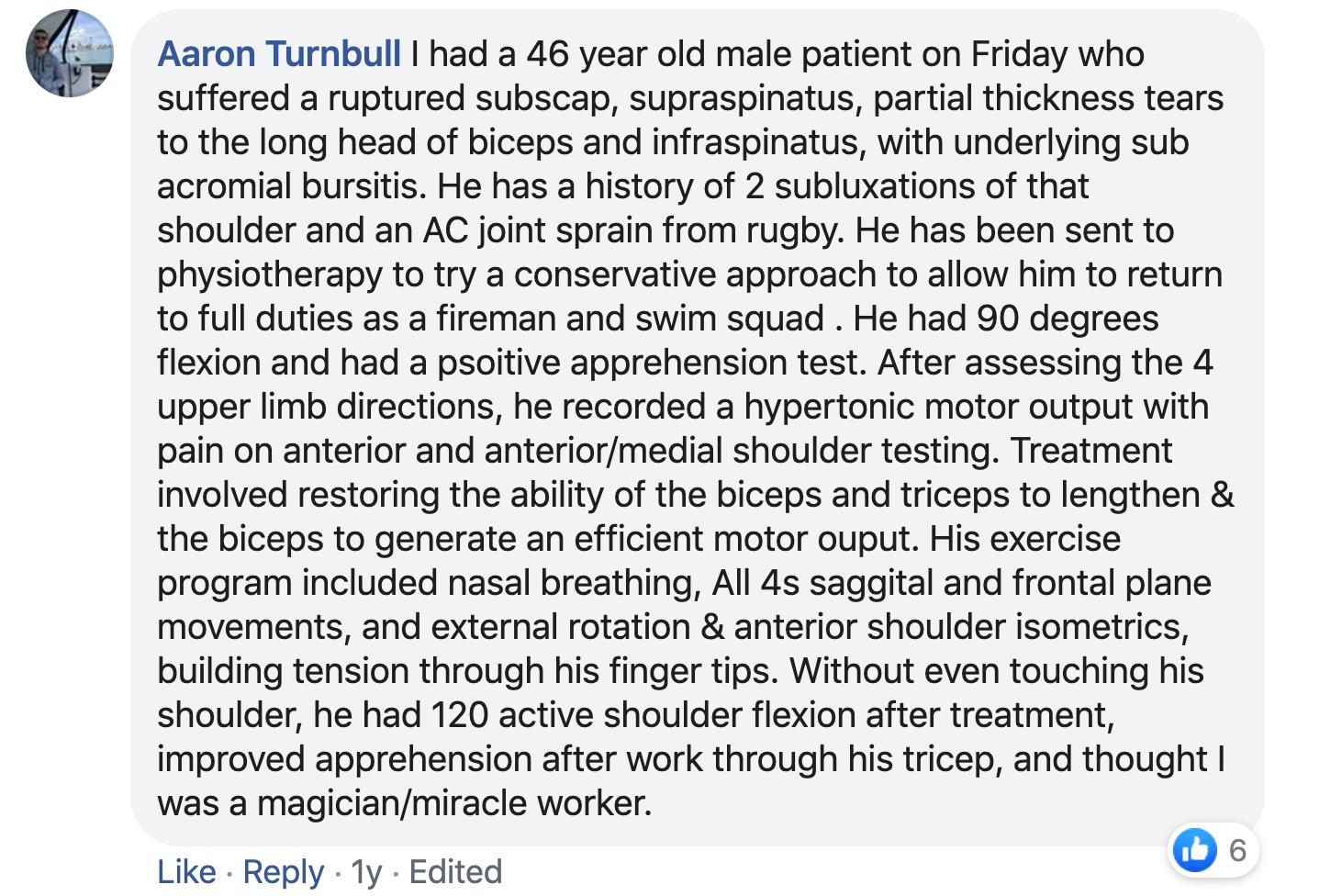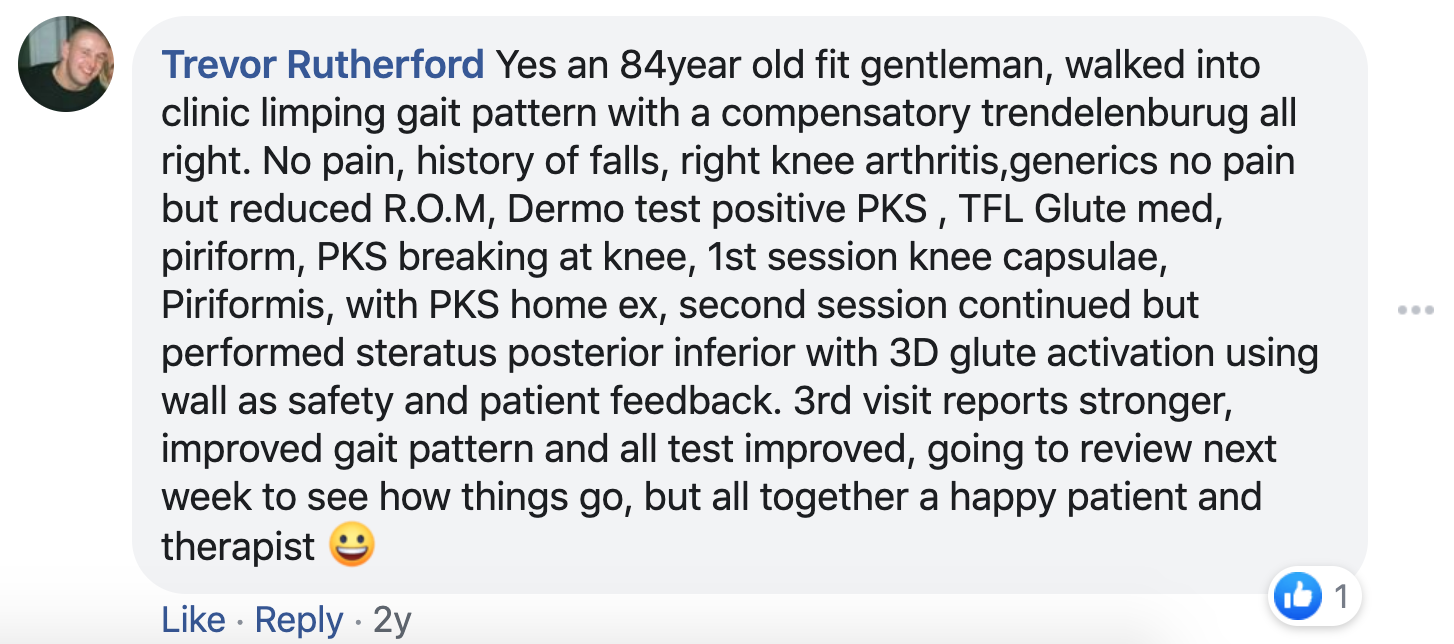 I've been very fortunate to work with top athletes, I've travelled the world providing physiotherapy services and I've even been to two world cups in different sports.
And guess what?
Everybody – and I mean everybody – thinks that pro sport athletes are different to non-sporting patients.
Well, I can't blame you for thinking that. And now, with your permission, I'm going to reveal the truth!
Professional athletes have nervous systems, have limbic systems just like everybody else. Their diaphragm, pelvic floor, ribcage and hip joints need to move the exact same as a non-sporting patient. Sure speed of movement and load tolerance may change. But they still need the fundamentals to tolerate the high end stuff. This course explains it all.
It is easy to consume and understand and…At the end of this course, you get a simple blueprint of the most powerful assessments and exercises, to differentiate yourself from other therapists.
You'll discover how to spot the hidden jokers in the pack that literally keep your patients tossing and turning, unable to sleep, and break past the plateaus.
You'll know how to assess 'acute-irritable' patients on autopilot and then settle their symptoms quickly and get them COMPLETELY SOLD ON A TREATMENT PLAN without any adherence issues so you get help them get lasting results.
This simple yet brutal system has given me and my mentorship therapists groundbreaking results…and very few are looking at musculoskeletal injuries like this!




Don't Judge Me By What I Say, Judge Me By What My Students Say
But Your Patients Are Different And This Won't Work For You…



That's what you might be saying to yourself…
The little voice in your head is probably muttering things like…
"This all sounds great"…. "But my patients different and this won't work on my type of patient"….
However, I will personally GUARANTEE you it will.
You see, if for some strange reason you try the strategies outlined in this course and they don't EXPONENTIALLY improve your confidence within the first 14 days, I'll refund you the cost of the course just for the inconvenience.
Sound fair?
Cool.
After you take this course…
You'll Know How To Assess And Treat The Diaphragm To Help Even Your Most Complex Patients Make Progress!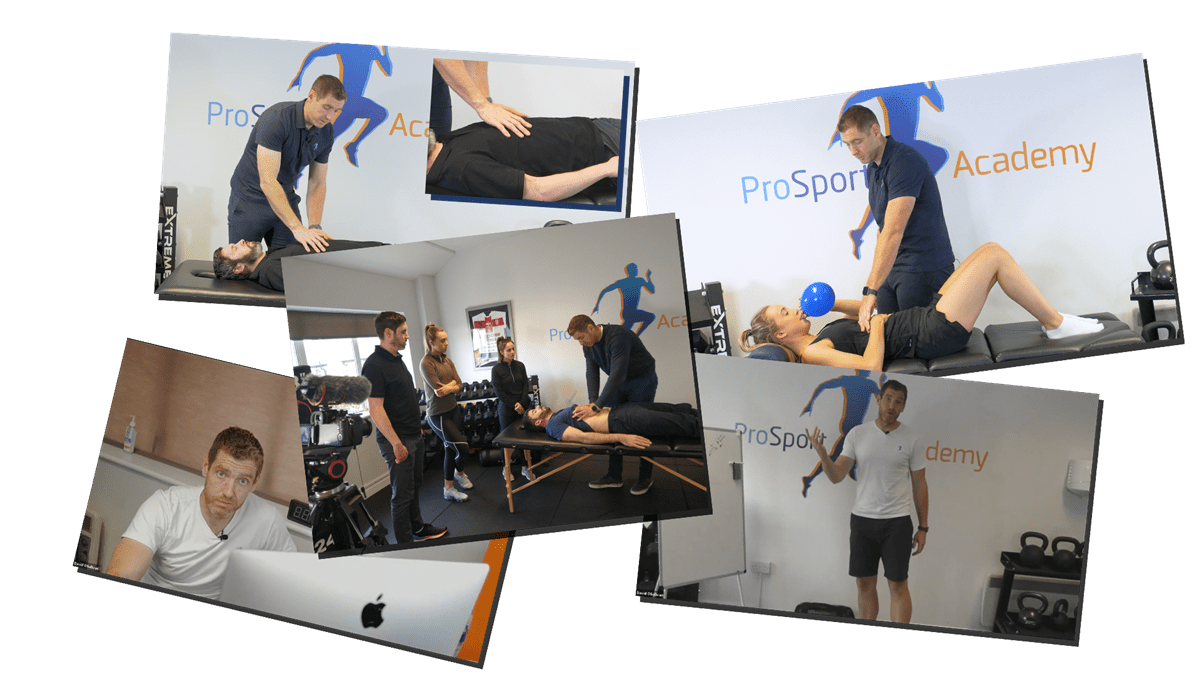 And you'll do it all without using any outdated methods…. without having to beg your patients to do your exercises…. or going through the whole 'song and dance' routine to convince patients that pain does not always mean damage.
Instead you'll have patients rebooking in on your calendar, asking what are the next progressions next week!…Even jumping through hoops and selling YOU on why you need to see them the following week because they want more PROGRESS like this!
All of this is possible because of the way this simple system works.
I've created it using a combination of simple respiratory strategies to influence the neurological and musculoskeletal systems that actually helps your patients to undo the movement habits and behaviours they are doing 24 hours a day!
We focus on the 6-10 hours a day rehab rather than the 6-10 reps approach.
Yes, you heard that right. Your patient will actually do their rehab for you when they are sitting, sleeping and moving multiple times throughout the day.
It contains every single cue you need to help your patients control their pain experience and undo their movement behaviours with simple progressions that I use in my own clinic, and for hundreds of my mentorship therapists' patients.
And is responsible for helping my clinic and other therapists clinics grow very quickly through word of mouth reputation over the last 5+ years.
Finally, you will learn these simple strategies too…
There Is Absolutely No Catch, Whatsoever!
I realise this all might seem too good to be true… so you might be wondering what the "catch" is.
And I know there are some courses out there that offer you a great deal on something but then they ramble for hours, overwhelming you with terminology that you just stagnate and don't know where to go next.
This isn't one of them.
There's NO hidden "brain hacks", hooks, gimmicks or shenanigans of any type.
I'm literally giving you over 10,000 hours of own personal research, practice, mistakes and improvements in a simple to use format that gets results, all I'm asking is you to consume the content and take action with it.
Why Am I Giving This Course
Away For Only £97?
Well, there are actually three reasons…
1) As a means of putting my best foot forward and demonstrating I can help you by actually helping you.
2) To demonstrate the value of mentorship. Look, success doesn't come easy, and no one manages to make their dreams a reality without a combination of hard work and others opening and holding the door for them from time to time. This is my way of 'mentoring you on my mistakes and successes'. As this course is the exact roadmap I wish I had when I was starting out in private practice 10 years ago.
3) And because I'm sick of all these "twitter gurus" ranting and raving and telling you you can't reliably do this and do that and this diaphragm and breathing stuff is useless.
And look, just to be crystal clear…
There's no obligation now…or…at any time.
My hope is that you'll love this course, you'll see how simple this stuff can actually be and this will be the start of a good relationship for years to come. Yet with all that said, you need to….
Hurry, This Offer Is Extremely Limited
And Won't Last Long!
Here's why…The last time I ran this course, I charged £147 (which was still really cheap for the information I'll be revealing along with the time and energy you'll save)…
If this page is still here, then the offer is live. But I reserve the right to pull it down at any time with no notice.
To ensure you don't miss out, act now…
My Totally Outrageous, 'Real World' Guarantee
I 100% Guarantee you'll be able to apply this content in the real world and see results with patients within the first 7 days or I'll refund your course cost…
I'll even take it one step further…
If you try the strategies outlined in this course and they don't EXPONENTIALLY help you improve your confidence and your patient's results, let me know and I'll refund you the cost of the course please you can keep the powerpoint slides just for the inconvenience.
That's right. You don't even have to send anything back.
Just email me or call the number on your receipt and I'll give you back your course fee with no questions asked.
How's that for fair?
Claim Your Course Now And You'll Also Receive These Free Bonuses!
When you claim your seat on the course now, I'll also be handing you access to the LIVE VERSION of the course I did back in May and I'll give you an extra 7 days to consume the course.
PLUS! You'll get all the extra Q and A's I done on that course included. So you'll get the short sharp version and also the MP3 version of the Live Course to listen to in the gym or in the car on the way to the clinic.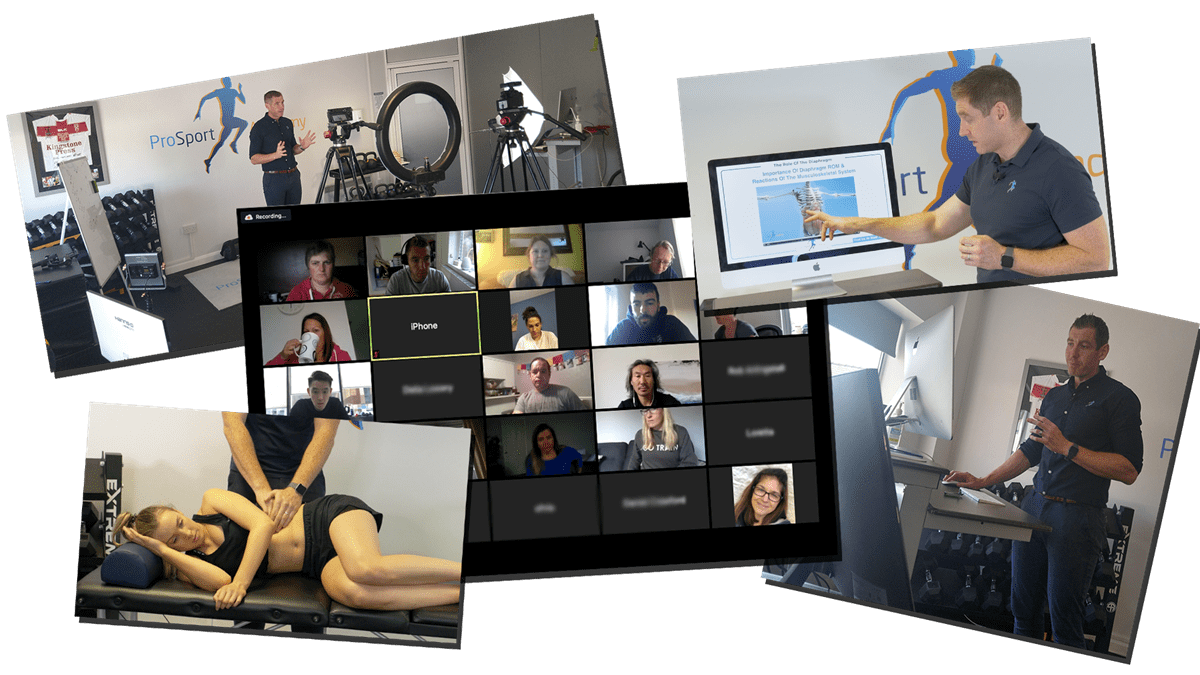 This Is Truly A Limited Offer, So Claim Your Seat Now Before They're All Gone…
Like I mentioned before, this course is heavily discounted for a limited period. I'll discount the course for you and all I ask is that you consume the content and implement it with your patients in the world!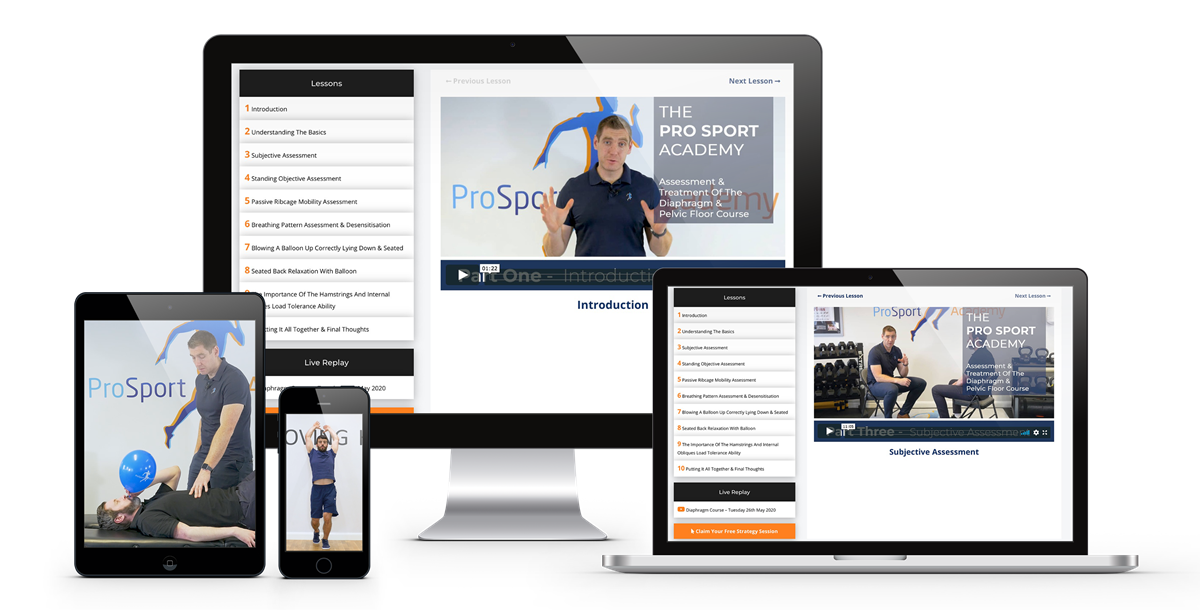 Thanks for taking the time to read this page and I look forward to hearing from you soon!
Dave O'Sullivan
P.S.
In case you're one of those people who just skip to the end of the page, here's the deal:
I'm heavily discounting the EXACT simple diaphragm system I've used to build a word of mouth clinic for me and my mentorship therapists.
The course is heavily discounted, and all I ask is you consume the content and apply it in the real world with your patients.
P.P.S This is a very limited offer because I usually charge £147 for the live class. Once these limited seats are sold out we'll have to put the price back up again. So act now and get your discounted course seat.
There is no "catch" to this course. You will not be getting any 'brain hacks' or complicated overwhelming strategies or anything like that. No shenanigans of any kind.
P.P.P.S I'm so confident this course will have a profound impact on your business, that if it doesn't, let me know and I'll even give you back the money you spent on the course. You don't even need to send the powerpoint slides back.
Click here and claim your seat now.
You won't regret it